Personal Best C1 - Ed A - e-Student's Book (Digital Book) - American English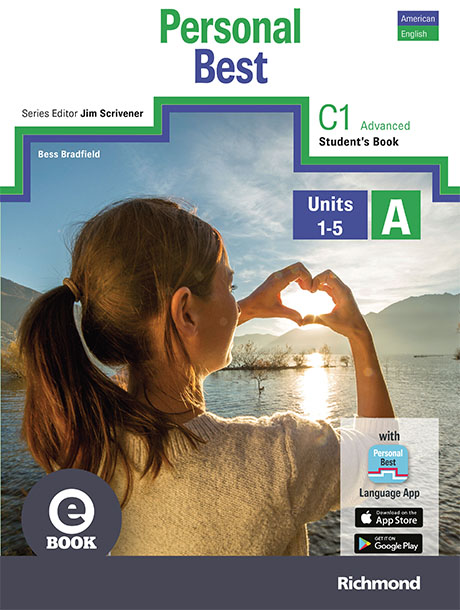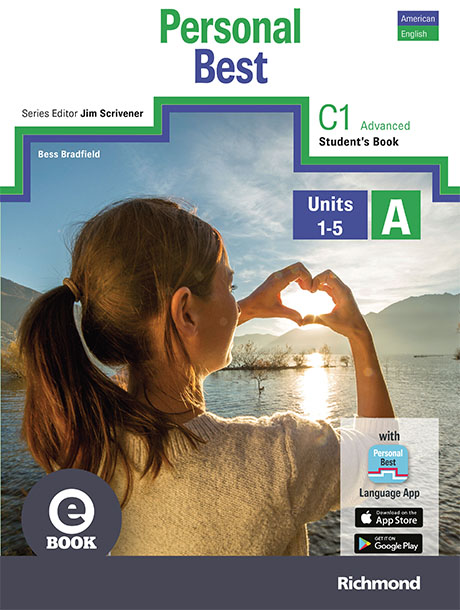 Personal Best C1 - Ed A - e-Student's Book (Digital Book) - American English
Autores: Bess Bradfield, Jim Scrivener
ISBN: 9786070616907
Código do produto: 39100611
Personal Best is a 6-level general English course for today's busy young adults who want to maximize their English language learning experience.
Developed with series editor Jim Scrivener, an internationally renowned teacher trainer and presenter, it brings together his focus on practice as a driver of improvement for students and a 21st-century course package with an integrated web-based video show and the Personal Best Language App.
Bess Bradfield
I'm a writer who's been lucky enough to work on a wide range of ELT materials, including international courses, schoolbooks, exams, websites, games and stories. I particularly enjoyed writing the Target FCE course for Richmond, and relished the challenge of making exam preparation interesting and accessible (definitely not impossible!). I'm interested in many aspects of English language learning, but especially in developing students' confidence and ability in skills work; using authentic, engaging contexts; and above all, in making the learning experience enjoyable, motivating and rewarding. My first experience of teaching ELT was at Tuzla University in Bosnia, where I probably learnt more than the students, but came away feeling fascinated and inspired. In addition to teaching and writing, I've also worked as an editor and a lexicographer. I spent over two years updating entries for the Oxford English Dictionary, where I added the British idioms 'does exactly what it says on the tin' and 'who ate all the pies?' (Sorry about that!) I have a first-class BA in English Literature from Cambridge University and an MA with Distinction from York. I'm still very passionate about reading, writing and learning. I'm a keen walker, and enjoy exploring beautiful Yorkshire, inspiration for the Brontë sisters – and Bram Stoker's Dracula!