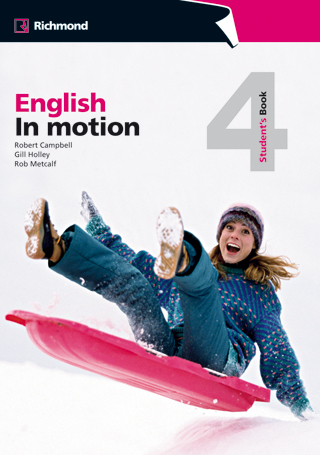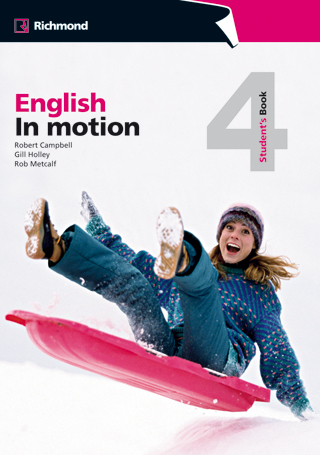 English In Motion 4 - Student's Book
Autores: Rob Metcalf, Robert Campbell, Gill Holley
ISBN: 9788466815147
Código do produto: 290515147
Formato Impresso
Dimensões do produto 21 X 29,7
Número de páginas 112
Preço sugerido R$ 192,00

English in Motion is a dynamic four-level course that thoroughly integrates practice of the four skills with work on vocabulary, grammar, and pronunciation.
Language is presented through interesting topics and themes and practiced in the special English You Need section.
Practice begins with meaningful controlled exercises and gradually develops into freer, personalized activities.
Clear speaking and writing models to give extra guidance for students' own production.
A variety of materials to consolidate what they have learned and practiced in the classroom.
Songs from a variety of genres are used to motivate students and a DVD links with the course themes, giving students the chance to see real teenagers talk about their lives.
A wide selection of resource materials with different levels of difficulty.
Key Features
Digital book provides a complete course with options to adapt, extend, and customize.
Student's Multi-ROM contains extra interactive material.
Cultural aspects and CLIL objectives per unit.
Extra tips and strategies for mixed ability classes.
My Portfolio section to encourage personalization and self-study.
Course website:www.international-inmotion.net.
Material online ou site de produto
Livro digital para projeção (IWB)
Vídeos
Rob Metcalf
Rob has over 20 years of experience as an EFL teacher, both in the UK and in Spain. This experience has included working with students of all ages, and teaching in face-to-face and online contexts. He has also been active as an EFL writer since the mid 1990s. He was one of the original members of the writing team for Net Languages online courses and co-author of Richmond's Framework Advanced student's book, as well as three workbooks in the same series. More recently he has co-authored Richmond's four-level secondary course English in Motion, and was one of the authors of the award-winning Global eWorkbook. He also co-wrote the upper-intermediate workbook for the English Unlimited course.
Robert Campbell
Robert is the editor and publisher of its-teachers, the online magazine for teachers of English. Apart from being one of the co-authors of the Richmond four-level secondary course English in Motion, he has written several readers, including The Time Machine, a finalist in the 2011 Extensive Reading Foundation Learner Literature Awards.
He is also one of the authors of the award-winning Global eWorkbook. Through his company he has published magazines for the British Council worldwide. He has created web sites for Richmond and recorded the audio components for many courses. In his spare time he writes and performs songs.